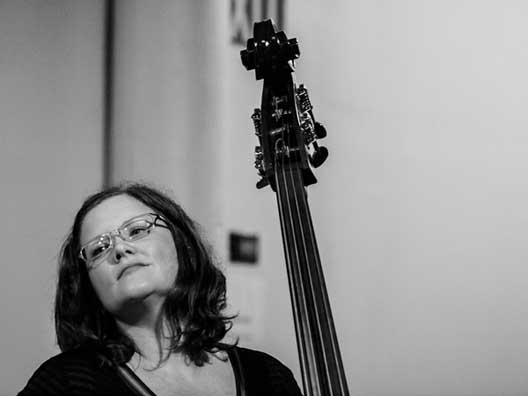 Photo: Peter Gannushkin/downtownmusic.net, (c) 2011
Lisa Mezzacappa is a San Francisco Bay Area-based bassist, composer, and musical instigator. An active collaborator and curator in the Bay Area music community, she leads her own groups Bait & Switch and Nightshade, and co-leads the ensembles duo B., Cylinder, the Permanent Wave Ensemble, the Mezzacappa-Phillips Duo, and the Caribbean folk band Les Gwan Jupons. Lisa has released her own recordings on the Clean Feed, NoBusiness, Leo, Evander, Odd Shaped Case and Edgetone record labels, and has recorded as a sideperson for the Tzadik, Kadima and Porto Franco labels. She collaborates frequently on cross-disciplinary projects in sound installation, film/video, sculpture and public music/art.
As curator, she programs the annual JazzPOP concert seres at the UCLA Hammer Museum in Los Angeles; the monthly Monday Makeout creative music series in the Mission District of San Francisco; and a live cinema series, Mission Eye and Ear, at Artists' Television Access. She is also a member of the artistic committee at the brand-new Center for New Music in San Francisco. New projects in the works include an avant-folk string band, a trio with Brooklyn vocalist Fay Victor, and a cross-planetary collaboration with Venice reed player/composer Piero Bittolo Bon.
Lisa has been artist-in-residence at Djerassi Resident Artists Program (2008), Headlands Center for the Arts (2006), the Banff International Jazz Workshop (2000), and the Painted Bride Arts Center (2000). She holds an MA in ethnomusicology from UC Berkeley (2003), and a BA in music from the University of Virginia (1997). She has performed at countless Bay Area venues including Intersection for the Arts, Yerba Buena Center for the Arts, SFMOMA, Yoshi's, the Jazzschool, and the de Young Museum, San Francisco; as well as the Earshot Jazz Festival, Seattle; the Montreal Jazz Festival, Canada; the Monterey Jazz Festival, CA and the Novara Jazz Festival, Italy. She performs regularly in New York, where she leads the Brooklyn-meets-San Francisco trio Soft Pitch.
Lisa has been awarded grants by the San Francisco Friends of Chamber Music, the Zellerbach Family Foundation, American Composers Forum, the City of Oakland, Meet the Composer and Southern Exposure/the Andy Warhol Foundation. She currently performs in more than a dozen original jazz, pop, improv and chamber ensembles, working with bandleaders Phillip Greenlief, Aaron Novik, Beth Custer, Randy McKean, Marco Eneidi, Aaron Bennett, Graham Connah, Cory Wright and Ross Hammond, and collaborating with Darren Johnston, Steve Adams, Vinny Golia, Katy Stephan, Aram Shelton, Kjell Nordeson, Murray Campbell, Jason Levis, Dina Maccabee, Noah Phillips, Rob Ewing, Aaron Novik, Kasey Knudsen, Vijay Anderson, Michael Coleman, Myles Boisen, Sam Ospovat, John Hanes, and many many others.
For Gold Record Studio (2007-8), she co-hosted, with Jon Brumit, a free public recording studio for six weeks at an Oakland neighborhood flea market, assuming the role of record producer, audio engineer and musical instigator. For Earworms (2006-12), a collaboration with installation artist Deborah Aschheim, she composed and recorded 18 pieces, with more than a dozen musicians, for a series of sculptural installations exploring the relationships between music, memory and language. Nostalgia for the Future is another Aschheim collaboration that uses analog sounds, acoustic instruments and electronic processing in architecturally-inspired installations. A new series of sound and video works with Aschheim, based on research and residency work at the UCSF Memory and Aging Center (MAC), premieres in December 2012.