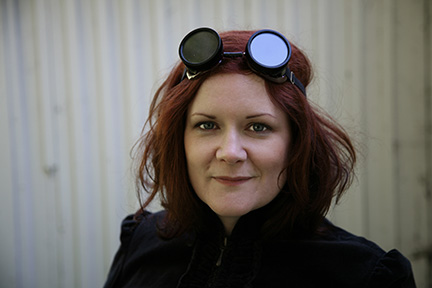 Photo: Heike Liss
Lisa Mezzacappa is a San Francisco Bay Area-based composer, bassist, bandleader, and producer. Called "one of the most imaginative figures on the Bay Area creative jazz scene" by The Mercury News and "a Bay Area treasure" by KQED public radio, she has been an active part of California's vibrant music community for nearly 20 years. Mezzacappa's activities as a composer and bandleader include ethereal chamber music, electro-acoustic works, avant-garde jazz, music for groups from duo to large ensemble, and collaborations with film, dance and visual art. 
Recent projects include Cosmicomics, a series of compositions inspired by Italo Calvino's stories about the origins of the universe; avantNOIR, a suite for sextet rooted in noir fiction; Organelle, a chamber suite for improvisers grounded in scientific processes on micro and cosmic scales; Glorious Ravage, an evening-length song cycle for large ensemble and films drawn from the writings of Victorian lady adventurers; and Touch Bass, a collaboration with choreographer Risa Jaroslow for three dancers and three bassists. Current projects include the duo B. Experimental Band which performs original compositions for improvisers bimonthly in Oakland, CA; and premiering in 2020, The Electronic Lover, an opera podcast created in collaboration with writer Beth Lisick.
Mezzacappa has released her music on the New World, Clean Feed, NoBusiness, Leo, and NotTwo record labels, and her work has been supported on the national level by the MAP Fund, the Foundation for Contemporary Arts, the Aaron Copland Fund, and the Andy Warhol Foundation; and by Bay Area funders the Wattis Foundation, Zellerbach Family Foundation, and Intermusic SF. She has been artist-in-residence at the Cité International des Arts in Paris, Fr; Djerassi Resident Artists Program, Headlands Center for the Arts and the Banff International Jazz Workshop. She was a participant in the Jazz Composers Orchestra Institute, a program of American Composers Orchestra and the Jazz Studies Institute at Columbia University.
In addition to leading her own projects in the US and Europe, Mezzacappa has performed as a sideperson with heroes such as Fred Frith, Marco Eneidi, Rhys Chatham, the Paul Dresher Ensemble, Mark Dresser's SIM Bass Ensemble, Nicole Mitchell, Ned Rothenberg, Myra Melford, Vinny Golia and many others. These days, she plays often with Rob Ewing's quartet SIFTER, with David James' GPS, with the Nathan Clevenger Group, with Ian Carey's Wood/Metal/Plastic, with Cory Wright's Green Mitchell trio, and Randy McKean's Bristle, in addition to the ongoing, lifelong collaboration duo B., with drummer Jason Levis.
As curator, she programs the annual JazzPOP concert seres at the UCLA Hammer Museum in Los Angeles, now in its 15th year; and co-organizes the new Do-Over Music Series in Oakland, CA with drummer Jordan Glenn. Previously, she founded the live cinema series, Mission Eye & Ear, at Artists' Television Access, co-founded the Monday Makeout creative music series in the Mission District of San Francisco with trumpeter Darren Johnston, and initiated the Best Coast Jazz Composers series at San Francisco's Center for New Music. She also periodically hosts the "Festival-of-Us," a festival celebrating Bay Area creative jazz and improvised music.