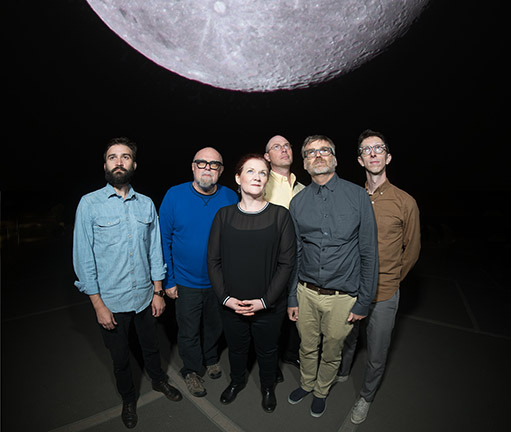 Photo: Eric Vogler (band), Palle Dahlstedt (moon)
Cosmicomics :: 2018
This fall brings the premiere of a new book of music I've been writing for my sextet, drawn from Italo Calvino's incredible
Cosmicomics
stories about the origins of the universe. We have been hard at work since April, developing the music in a series of four work-in-progress salons at Bird & Beckett Books & Records.
Premiere Performances
Fri Nov 2, 8pm // California Jazz Conservatory, Berkeley
Sat Nov 3, 7:30pm // Bird and Beckett Books, San Francisco
Aaron Bennett, tenor sax
John Finkbeiner, guitar
Mark Clifford, vibes
Tim Perkis, electronics
Lisa Mezzacappa, bass
Jordan Glenn, drums
Here's a clip from one of our Bird & Beckett salons, a new tune inspired by Calvino's story, The Soft Moon:
The Cosmicomics are like fairy tales, or creation myths, for philosophically-minded adults. Each story takes a single scientific theory or principal about the origins of the universe — the movement of planets, the distance between galaxies, the evolution of organisms — and humanizes that scientific phenomenon with a charming, often hilarious, first-person narrative. They were originally published as a set of 12 stories in 1965, and Calvino gradually added to them over his career, to total 31.
Calvino's warm, funny, supremely nerdy stories have thoroughly infiltrated my mind, and the music his words have inspired feels pretty different from anything I've written before. His stories often explore tensions—between opposing forces and bodies, between different worldviews, between seemingly irreconcilable possible outcomes—and have had a big influence on the form and structure of my music in particular.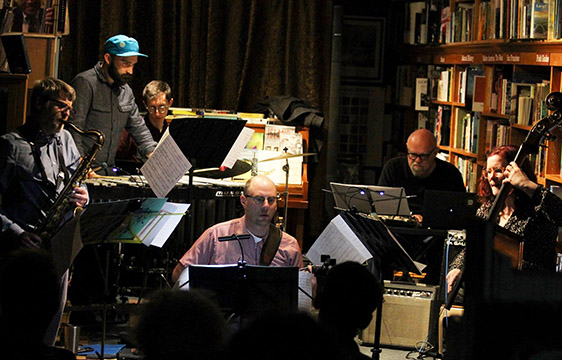 Photo: Angela Bennett