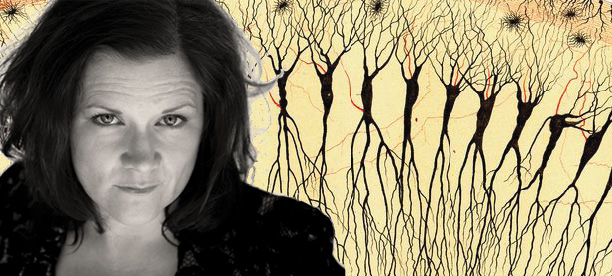 Photo: Heike Liss
ORGANELLE
ORGANELLE
is a "set" of compositions, inspired by diverse scientific processes – some enormous and unfathomable, others impossibly microscopic – that form a whole through the insights and explorations of master improvisers. The modular work draws its musical ideas from the different ways that the human body, the natural world, and the cosmos mark and "experience" the passing of time. The notes, rhythms, musical relationships, melodies, and structures in each movement of ORGANELLE are connected to theories of cell biology, astrophysics, paleontology, zoology, or neuroscience, exploring these otherwise-imperceptible phenomena through sound.
The first iteration of ORGANELLE premiered in Europe in spring of 2016, with musicians in Köln, DE; Naples and Rome, IT; and back at home that fall, in Berkeley, CA at the Berkeley Art Museum and Pacific Film Archive. In each presentation, the music is revised, re-imagined, and expanded to embrace a new set of musical personalities and a different performance context. New movements are added, and old ones discarded or re-worked, to suit different configurations of musicians as the work continues to develop. Subsequent ORGANELLE movements have been composed for ensembles in Vancouver (the Now Society Orchestra) and the Banff Centre for the Arts (Ensemble Evolution).
ORGANELLE also reflects my fascination with the challenges of notating musical ideas for improvisers to play (with), which for me has an interesting parallel with the ways science tries to visually represent complex, multi-dimensional systems and processes with flow charts and graphs and diagrams. The practical concern of wanting this score to be playable by any kind of improviser - a laptop electronic musician, an experimental koto player, a guitarist with nontraditional tunings - meant I often needed to find ways of visually representing musical ideas and relationships that were not confined to the traditional music staff. Many of these new graphic notations ended up having poetic connections to the scientific diagrams I was discovering in researching the content for the piece.
Some past performances of ORGANELLE:
ORGANELLE: Exploratorium
Part I: Syzygy
Lisa Mezzacappa, contrabass + Wayne Grim, electronics/sonification
Part II: Percussion Quartet
Gino Robair, Kjell Nordeson, Mark Clifford, Jason Levis
Read an interview about Organelle: Exploratorium with Jeff Kaliss from SF Classical Voice.
ORGANELLE: BAMPFA
Darren Johnston, trumpet
Kyle Bruckmann, oboes and electronics
Cory Wright, reeds
John Finkbeiner, guitar
Lisa Mezzacappa, acoustic bass
Jordan Glenn, drums and percussion

ORGANELLE: Köln
Zusanna Leharova, violin
Angelika Sheridan, flutes
Annette Maye, clarinets
Carl Ludwig Hübsch, tuba
Lisa Mezzacappa, acoustic bass
Philip Zoubek, piano

ORGANELLE:Banff - Glacial
Julia Lougheed, bass clarinet
Émilie Fortin, trumpet
Zekkereya El-Magharbel, trombone
Michiko Theurer, violin
Layal Chaker, violin
Martine Thomas, viola
Jake Saunders, cello
Niloufar Shiri, kamancheh
Annick Odom, bass
Lisa Mezzacappa, bass
Antonin Fajt, vibes

ORGANELLE:Napoli
Charles Ferris, trumpet
Marcello Giannini, guitar
Ron Grieco, bass and electronics
Lisa Mezzacappa, bass
Stefano Costanzo, drums

...coming soon...
ORGANELLE:Roma
Alberto Popolla, bass clarinet
Errico De Fabritiis, saxophone
Luca Venitucci, accordion/piano
Lisa Mezzacappa, bass
Marco Di Gasbarro, percussion
Fabrizio Spera, drums

...coming soon....