Mission Eye & Ear
... is a series I programmed in 2009-10 at the Red Poppy Art House that brought together writers, musicians, composers, filmmakers and media artists for new work and novel collaborations around a single theme or idea ...
In 2011, Mission Eye & Ear moved to Artists' Television Access (ATA) on Valencia Street in the Mission, where we presented three programs featuring new commissions by Bay Area composer-filmmaker teams. I co-curated and organized the series with ATA, with fantastic funding support from Southern Exposure and the American Composer's Forum. The series was re-mounted as part of Chamber Music Day 2012 at Yerba Buena Center for the Arts, and has also visited international venues in in Berlin, Germany and Naples, Italy.
Mission Eye & Ear 2011 Events
Mission Eye & Ear @ ATA #3
Friday September 16, 2011, 8pm
New collaborations by:
Cory Wright and Bill Basquin
Graham Connah and Kathleen Quillian
Lisa Mezzacappa/Noah Phillips and Sylvia Schedelbauer
Randy McKean and Carl Diehl
Mission Eye & Ear @ ATA #2
Friday June 3, 2011, 8pm
New collaborations by:
Paul Clipson and Darren Johnston
Kerry Laitala and Aaron Novik
Konrad Steiner and Matt Ingalls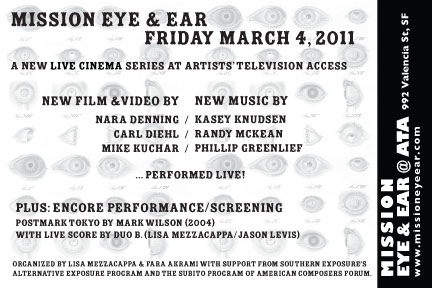 Mission Eye & Ear @ ATA #1
Friday March 4, 2011, 8pm
With Randy McKean, Kasey Knudsen, Phillip Greenlief, Carl Diehl, Nara Denning, Mike Kuchar.
Mission Eye & Ear Winter 2010: I SPY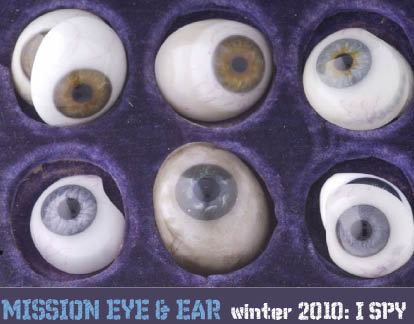 Friday December 3, 2010 8pm
For this winter edition of Mission Eye & Ear, artists respond to the theme "I SPY" - surveillance, espionage, eavesdropping, diary-snooping, private eyes, and other subversive activities, from the sinister to the benign.
Music by LISA MEZZACAPPA + BRUCE ACKLEY + DAVE MIHALY Trio
Readings by BETH LISICK
Compositions by AARON NOVIK
Drawings by DEBORAH ASCHHEIM
*****************************
Mission Eye & Ear Summer 2010: DREAMS