Mission Eye & Ear
... is a series I programmed in 2009-10 at the Red Poppy Art House that brought together writers, musicians, composers, filmmakers and media artists for new work and novel collaborations around a single theme or idea ...
This year, Mission Eye & Ear moved to Artists' Television Access (ATA) on Valencia Street in the Mission, where we present three programs in 2011 featuring new commissions by Bay Area composer-filmmaker teams. I'm co-curating and organizing the series with ATA, with super awesome funding support from Southern Exposure and the American Composer's Forum.
Save the Date! The final event of the series ...
Mission Eye & Ear @ ATA #3
Friday September 16, 2011, 8pm
New collaborations by:
Cory Wright and Bill Basquin
Graham Connah and Kathleen Quillian
Lisa Mezzacappa/Noah Phillips and Sylvia Schedelbauer
Randy McKean and Carl Diehl
Past Events
Mission Eye & Ear @ ATA #2
Friday June 3, 2011, 8pm
New collaborations by:
Paul Clipson and Darren Johnston
Kerry Laitala and Aaron Novik
Konrad Steiner and Matt Ingalls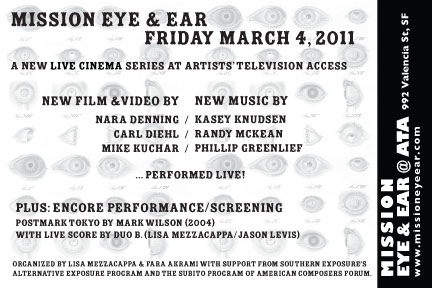 Mission Eye & Ear @ ATA #1
Friday March 4, 2011, 8pm
With Randy McKean, Kasey Knudsen, Phillip Greenlief, Carl Diehl, Nara Denning, Mike Kuchar.
Mission Eye & Ear Winter 2010: I SPY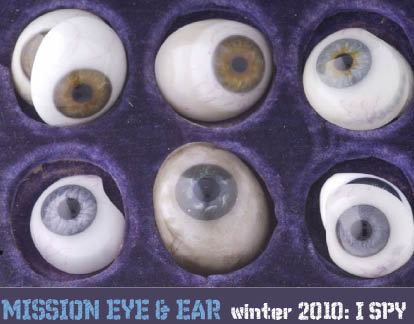 Friday December 3, 2010 8pm
For this winter edition of Mission Eye & Ear, artists respond to the theme "I SPY" - surveillance, espionage, eavesdropping, diary-snooping, private eyes, and other subversive activities, from the sinister to the benign.
Music by LISA MEZZACAPPA + BRUCE ACKLEY + DAVE MIHALY Trio
Readings by BETH LISICK
Compositions by AARON NOVIK
Drawings by DEBORAH ASCHHEIM
*****************************
Mission Eye & Ear Summer 2010: DREAMS