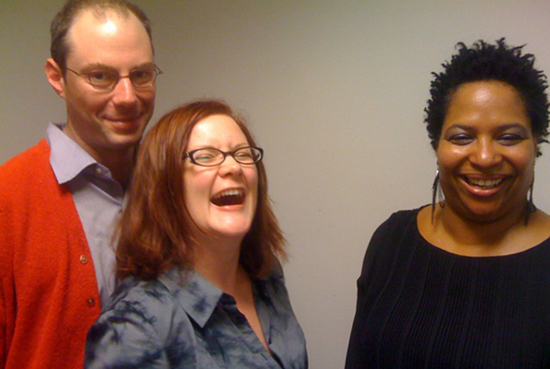 Photo: Jewlia Eisenberg
Lisa Mezzacappa's Eartheaters
Fay Victor, voice
John Finkbeiner, electric guitar
LM, acoustic bass
"Bassist-composer Lisa Mezzacappa is one of the most imaginative figures on the Bay Area creative jazz scene. Her latest project connects her trenchant trio with New York-based vocalist Fay Victor, whose career is as freewheeling as Mezzacappa's, spanning, jazz, blues, rock, soul and free improvisation." - Rich Sheinen, San Jose Mercury News
The Eartheaters, an East-meets-West Coast collaboration, perform original music by Lisa Mezzacappa (San Francisco) and Fay Victor (Brooklyn), as well as unusual improvisation-infused arrangements of music by Iggy Pop and the Carter Family. Mezzacappa and Victor meet over a shared sense of musical possibility - a wide-open concept of jazz language and feeling, and omnivorous musical personalities that encompass blues earthiness, avant-garde sonic explorations, the lean architecture of pop music and a keen sensitivity to sound and groove and space.
Mezzacappa has been a lynchpin of the San Francisco Bay Area's creative jazz scene for ten years, curating music series and leading several of her own groups that span rowdy garage jazz, ethereal chamber music and original music for film and sound installations. Victor has made a career in NYC and Holland as a vocalist, composer and bandleader rooted in jazz song, bare-bones blues and experimental soundscapes, collaborating with legends of improvised music on both continents. When the two met at a performance two years ago, they learned they had much in common in terms of musical tastes and improvisational propensities – a musical worldview that embraces Captain Beefheart alongside Herbie Nichols and the folk music of the Caribbean; a fearless approach to collective improvisation; and a creative process that thrives on collaboration, experimentation and exchange.
The trio has performed at Yerba Buena Center for the Arts (SF), the Jazzschool (Berkeley), the Blue Whale (LA), UC Irvine (Irvine, CA), 55Bar (NYC), Firehouse 12 (New Haven), the Hammer Museum (Los Angles) and Duende (Oakland).
"Fay Victor has a rich, commanding voice that's matched by a sense of adventure, like Betty Carter if that late singer hung around the current Downtown New York scene." -Chicago Reader
"A jazz singer who makes her notes slow, wide and meaningful …" - New York Times

Two videos of our debut at Yerba Buena Center for the Arts in November 2012:
Lisa Mezzacappa on Vimeo.
.
Two videos Peter Varshavsky of Porto Franco Records recorded for us, when we were preparing for our first dates on the West Coast in fall 2012:
Here's a video from a NYC trio performance with Fay and Daniel Carter: